THE PROJECT
The test apparatus for
salinometer probes
consists of a tank containing demineralised water which is placed in continuous flow by means of a pump located on the left side. At the right end of the tank is installed the reading station where it's verified that the probes have no defects and are functioning correctly. Finally, the device is equipped with an electrolytic dialyzer which is used to stabilize the salt concentration in the water at a value of about 10 ppm.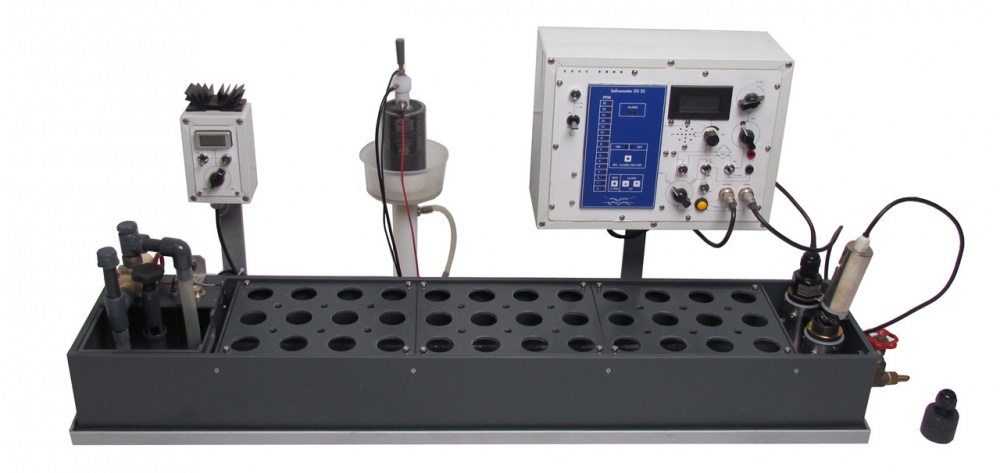 THE TESTING PROCEDURE
The
salinometer probes
are placed in the tank containing continuously flowing demineralised water. Every single probe is checked and tested in order to deliver perfectly functioning parts to the customer. The values read by each probe through a special connector are compared with those detected by the sample probe.
If the values read by the probe are anomalous, the control panel of the quality control system allows to carry out a series of checks to discover any defects.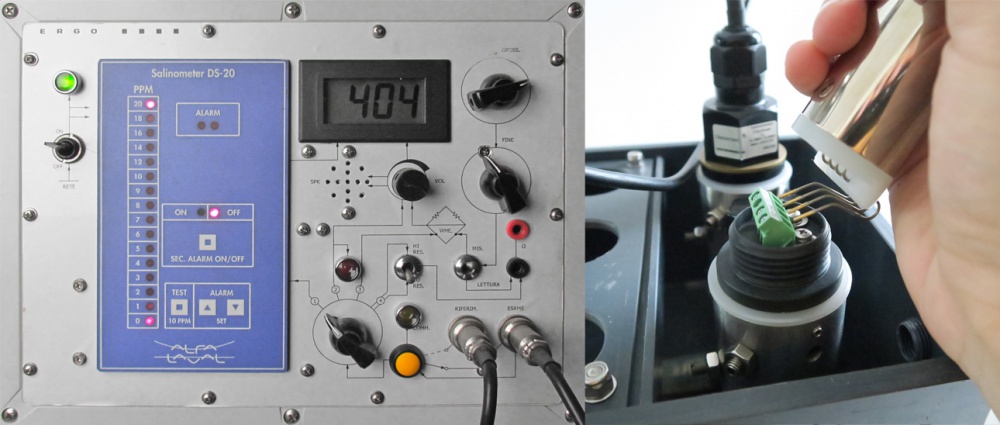 THE ELECTROLYTIC DIALYZER
During assembly and testing, the probes are inevitably touched with the hands and immersed in the tank to perform the quality test. This means that the salinity level of the demineralised water in the tank increases over time.
In order not to have to periodically replace all the water in the tank, an electrolytic dialyzer has been developed to keep the salinity level of the demineralized water constant. When the salinity level increases, the dialyzer is connected to the tank by inserting the appropriate plug in the probe compartment. The water rises in the dialyzer, passes through an activated carbon cylinder and returns to the tank. When the dialyzer is connected to the electrical voltage, the activated carbons of the anode absorb the chlorine anions and sodium migrates into the porous septum in the form of sodium hydroxide. A peristaltic pump sucks it in and finally deposits it in a tank.
In this way the dialyzer restores the salt concentration in the water to a value of about 10 ppm, saving a lot of water and time during the assembly and testing of the probes.